Bruce's Story
Bruce has been impacting lives one body at a time since 1995. Widely regarded as one of Canada's leading authorities on healthy fat loss, Bruce Krahn is a bestselling author, expert fitness trainer and nutrition guru. As a personal trainer, Bruce has logged more than 20,000 training hours helping hundreds of clients reach their health & fitness goals. His client list has included notable celebrities such as Nelly Furtado, Criss Angel, Tom Cochrane and Trish Stratus.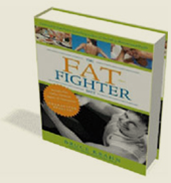 Drawing upon his extensive experience working with everyone from students to C.E.O's, Bruce penned the bestselling book- The Fat Fighter Diet. Published by world renowned publishing house John Wiley & Sons, The Fat Fighter Diet is unlike any "diet" book ever written. Instead it is a unique and comprehensive guide to attaining your health and fitness optimum.
Recognizing the need for a "one to many" fitness & nutrition resource, Bruce founded eBodi.com- an online "virtual" personal training and nutrition company providing personalized programs to thousands of people worldwide.
Through his book, websites, companies and presentations, Bruce has touched the lives of more than 500,000 people from all walks of life.
A professional speaker and spokesperson for multi-national companies, Bruce has delivered his message to audiences from coast to coast including companies such as General Electric, TD Bank, Kraft and Amgen. Meeting planners rely on his consistent ability to garner positive feedback from clients such as "Bruce is the most entertaining and realistic speaker we have ever had the pleasure of hiring".
Today Bruce divides his time between training clients, writing and speaking. To inquire about Bruce's availability for any of his services please submit the questionnaire located here.