Client Testimonials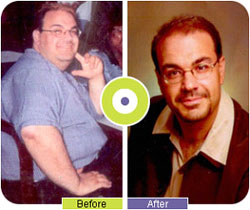 Tony has lost more than 60 inches! He was shocked that he could accomplish this using a personal trainer online.
I do not normally write to talk about anything but I had to let you know what has happened to me as a result of following your program. I DID IT!! I have lost my huge "spare tire" and I feel so great! My energy levels have increased dramatically and my confidence has soared! I found your "health condition" meal plans to be particularly useful for my arthritis. What a great resource!
- Tony D, Toronto
Update : Tony continues to lose and has now lost more than 60 inches to date.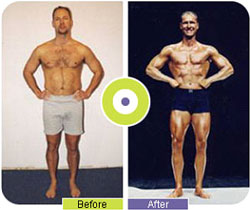 Paul had to "put the brakes on" because he didn't want to get a new wardrobe…again.
Thanks for your help and guidance. Because of you I have gotten into the best shape of my life and I look forward to any opportunity to take off my shirt! Your training programs kept me challenged while your meal plans kept me fueled! After using your system I think I know more than any "trainer" at my gym!
- Paul B, Montreal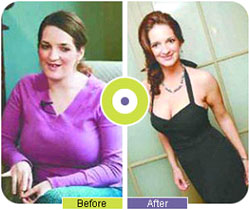 Susan was not losing weight using other programs but has lost 30 inches and 25 pounds of FAT using ebodi.com!
I am writing you to tell you how much this experience has affected my life. At first I was scared of all the changes I needed to make, but your ebodi system offered so much support that I didn't feel alone. With your help I was motivated to alter my lifestyle and as a result enhance the quality of my life.
I have learned the power of setting a goal and the satisfaction that comes with achieving it. I have lost more than 25 pounds of FAT and over 30 inches to my body! I now believe that you have the control over your well-being and when you eat right and look after yourself you gain control over the other areas of your life as well. Thank you Bruce!
- Susan M, Toronto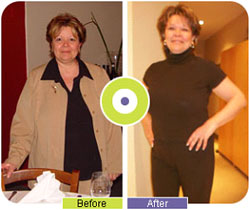 Joyce wanted to lose weight naturally- My system gives her weight loss exercise that she can do at home or at the gym!
Not long ago I found myself in a real ugly place in my life. Years of emotional stress, physical strain and personal neglect slowly resulted in a painful body which consumed my every minute of every day to the point that the simplest daily activities were impossible. In fact, I got to the point where I could not get out of bed and did not want to get out of bed. I exhausted every desperate measure for some form of relief. Finally, I turned to your web based ebodi solution for one more try.
In such a short time I find myself pain free, medication free, getting healthy and stronger, feeling great and living again. I really believe that consistency has made a big difference in my results. I am able to do the simplest daily activities and not bat an eye. I look different, I have tremendous energy and more importantly I feel fantastic. The feeling of well being is sometimes overwhelming!
- Joyce C, Oakville